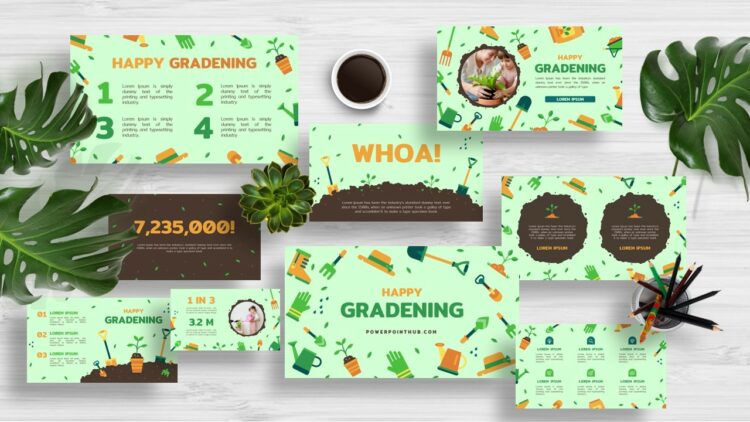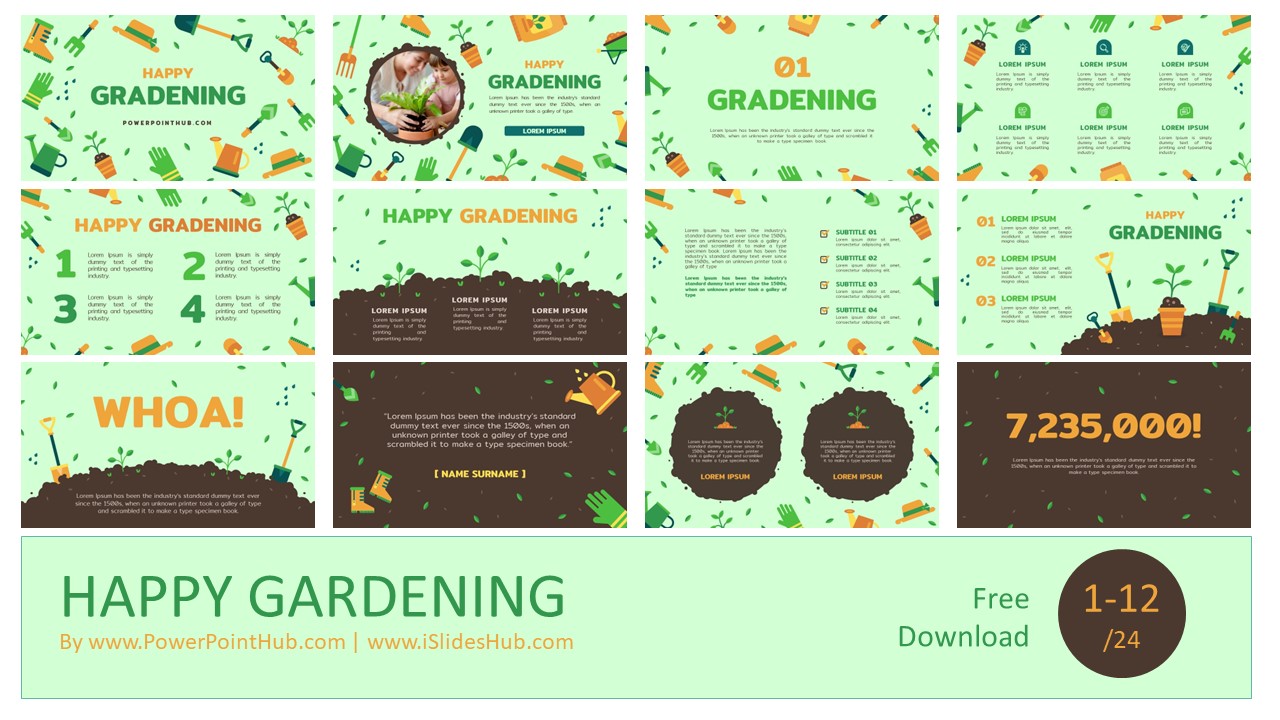 Introducing new gardening-themed presentation template, perfect for plant enthusiasts and gardening enthusiasts alike! This template is thoughtfully designed with vibrant green colors representing lush plants, earthy brown tones symbolizing fertile soil, and pops of cheerful orange to highlight gardening equipment. With a concept centered around the joy of gardening, this template is sure to bring a breath of fresh air to your presentations.
Featuring a total of 24 beautifully crafted slides, our gardening template offers a diverse range of layouts and designs to suit your presentation needs. Whether you're sharing tips on plant care, discussing sustainable gardening practices, or showcasing the benefits of urban gardening, this template provides a visually captivating backdrop to enhance your content.
The use of green hues throughout the template invokes a sense of growth, renewal, and harmony with nature. The brown color scheme brings a grounded and earthy feel, reminding viewers of the importance of nurturing the soil for healthy plant growth. The vibrant orange accents add a touch of energy and excitement, representing the tools and equipment essential to every gardener's toolbox.
Our gardening template is not only visually appealing but also highly versatile. It is compatible with popular presentation platforms such as PowerPoint, Canva, Google Slides, and Keynote, allowing you to effortlessly customize and personalize your slides according to your preferences. Whether you're a gardening blogger, educator, or professional in the field, this template will elevate your presentations and engage your audience.
From informative slides on gardening techniques and plant selection to captivating visuals showcasing the beauty of blooming flowers and thriving gardens, our template offers a harmonious blend of aesthetics and functionality. The carefully designed layouts and attention to detail make it easy to organize your content, present data, and convey your message effectively.
So, if you're looking to bring a touch of nature's splendor to your presentations, our gardening template is the perfect choice. Embrace the vibrant colors, embrace the joy of gardening, and let your ideas bloom and grow with this delightful template. Start captivating your audience and inspiring them to dig deeper into the world of gardening with this beautiful and versatile presentation companion.
Feature of this PowerPoint Template:
Fully and easily editable (shape color, size, and text)
Drag and drop image placeholder
This template has a color theme and will automatically apply when copied and pasted
The aspect ration of 16:9
24 unique slides
This file already have imbedded fonts
If you have any question or problem please fill free to contact us at Facebook fanpage
Conditions:
Personal and education use.
Not allow for commercial use.
Not allow for (re)sell, (re)distribute.