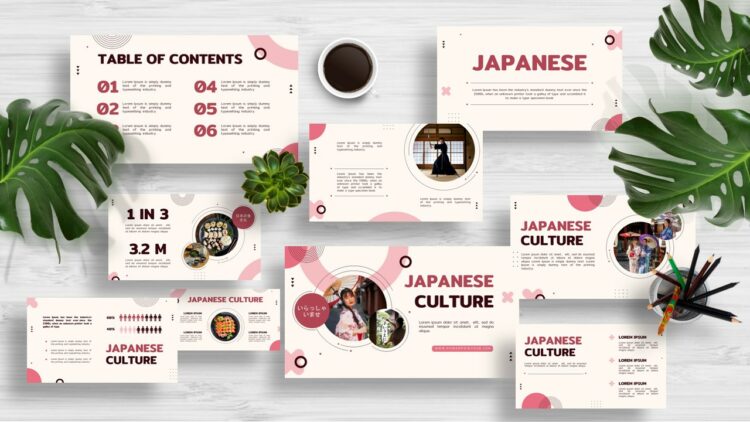 Introducing our captivating Japanese Culture presentation template, designed to immerse your audience in the beauty and richness of Japanese traditions. This template features a striking color palette dominated by the elegant pastel red shade, which represents the essence of Japanese culture. With a total of 24 thoughtfully crafted slides, this template offers a comprehensive set of tools to create engaging and informative presentations.
Embrace the concept of Japanese Culture with our template as it takes you on a visual journey through the fascinating traditions, art forms, and customs of Japan. The pastel red color choice brings a sense of sophistication and elegance to your slides, capturing the essence of traditional Japanese aesthetics.
Each slide within the template is carefully designed to showcase various aspects of Japanese Culture. From the iconic landmarks and historical sites to the intricate art forms like origami and calligraphy, this template allows you to present a comprehensive overview of Japanese traditions. The visuals are complemented by well-organized layouts, ensuring a seamless flow of information and captivating storytelling.
Our Japanese Culture template is highly versatile and compatible with popular presentation platforms such as PowerPoint, Canva, Google Slides, and Keynote. This enables you to effortlessly customize and personalize your slides, adapting them to suit your specific needs and preferences. Whether you're giving a lecture on Japanese history, presenting travel recommendations, or organizing a cultural event, this template provides a visually striking backdrop for your content.
Immerse your audience in the unique world of Japanese Culture through the captivating visuals and informative slides of our template. The pastel red color evokes a sense of cultural authenticity and authenticity, allowing you to convey the rich heritage and traditions of Japan with clarity and impact. From tea ceremonies and traditional festivals to the exquisite craftsmanship of Japanese artisans, this template brings the essence of Japanese Culture to life.
In conclusion, our Japanese Culture presentation template is a valuable resource for anyone seeking to showcase and celebrate the captivating traditions of Japan. With its striking pastel red color scheme and well-designed slides, this template enables you to create visually stunning presentations that capture the essence of Japanese Culture. Download our template today and embark on a visual journey through the wonders of Japan!
Feature of this PowerPoint Template:
Fully and easily editable (shape color, size, and text)
Drag and drop image placeholder
This template has a color theme and will automatically apply when copied and pasted
The aspect ration of 16:9
24 unique slides
This file already have imbedded fonts
Conditions:
Personal and education use.
Not allow for commercial use.
Not allow for (re)sell, (re)distribute.