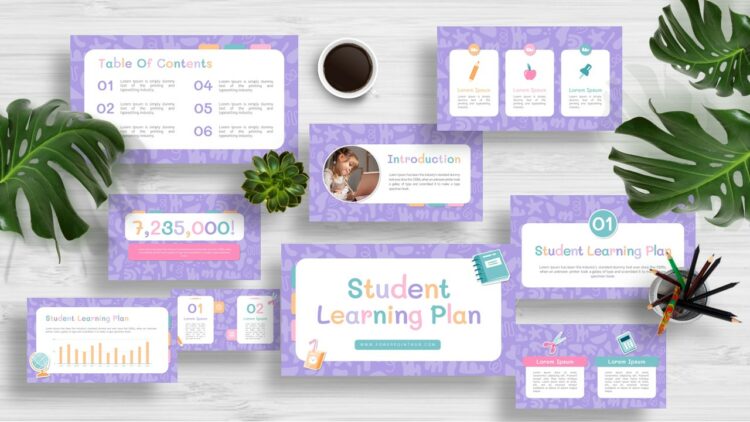 Introducing our latest presentation template, perfect for educators and students alike. Our Student Learning Plan template is designed with a focus on the learning concept, featuring a delightful pastel color scheme and charming education stickers. With a total of 24 slides, this template provides a comprehensive set of tools to create a structured and engaging learning experience.
This template is ideal for educators who want to develop a well-organized learning plan for their students. Whether you're a teacher, tutor, or homeschooling parent, this template will help you outline the goals, objectives, and activities for effective learning. The visually appealing pastel colors create a calming and inviting atmosphere, while the education stickers add a touch of fun and playfulness.
Each slide in the Student Learning Plan template is carefully designed to provide a seamless flow of information. From setting learning objectives and outlining lesson plans to tracking progress and evaluating outcomes, this template covers all aspects of student learning. The included slides offer various layouts, including bullet points, charts, and graphics, allowing you to present information in a clear and visually engaging manner.
Whether you're planning a single lesson or an entire curriculum, our Student Learning Plan template is flexible and adaptable to your specific needs. It can be easily customized to suit different subjects, grade levels, and learning styles. Additionally, it is compatible with popular presentation platforms such as PowerPoint, Canva, Google Slides, and Keynote, ensuring seamless integration into your existing workflow.
By utilizing our Student Learning Plan template, you can create a visually appealing and well-structured plan that will keep students engaged and motivated throughout their learning journey. The combination of pastel colors and education stickers adds a touch of creativity and positivity to the learning environment. With this template, you can effectively communicate your teaching objectives and guide students towards achieving their educational goals.
In conclusion, our Student Learning Plan template is a valuable resource for educators seeking to enhance their teaching approach and create an engaging learning experience. With its pastel color scheme, education stickers, and comprehensive set of slides, this template will help you develop a well-structured plan that promotes student growth and success. Download our Student Learning Plan template today and elevate your teaching to new heights!
Feature of this PowerPoint Template:
Fully and easily editable (shape color, size, and text)
Drag and drop image placeholder
This template has a color theme and will automatically apply when copied and pasted
The aspect ration of 16:9
24 unique slides
This file already have imbedded fonts
If you have any question or problem please fill free to contact us at Facebook fanpage
Conditions:
Personal and education use.
Not allow for commercial use.
Not allow for (re)sell, (re)distribute.