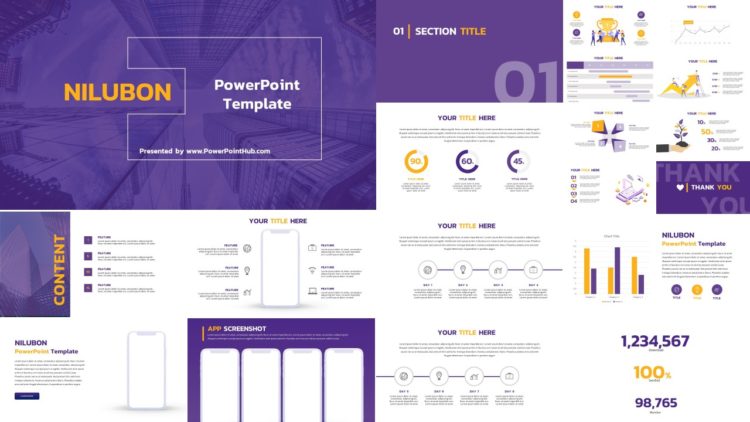 About Nilubon Free PowerPoint Template
The template is designed for mobile application and business proposal.
If you are looking for an attractive template, the Nilubon template is a perfect match. The design of the-template will catch the audience's attention. Their interest will be only on your presentation.
You can edit all 20 original slides provided in the template. You can rearrange smart arts to fit your need. So, information will look amazing on the slides. With this purple PowerPoint template, you can create your world of presentation with passion.
The beauty of the template can be beneficial in your presentation. So, choose the Nilubon PowerPoint template to grab your audience's ears.
Nilubon is kind of lotus flower in Thailand. In English called Blue Water Lily. This flower has a beautiful flower which is violet or blue color , and yellow or orange pollen same as color in this template.
Feature of this PowerPoint Template:
Fully and easily editable (shape color, size, and text)
Drag and drop image placeholder
This template has a color theme and will automatically apply when copied and pasted
The aspect ration of 16:9
20 unique slides
This file already have imbedded fonts
If you have any question or problem please fill free to contact us at Facebook fanpage
Conditions:
Personal and education use.
Not allow for commercial use.
Not allow for (re)sell, (re)distribute.