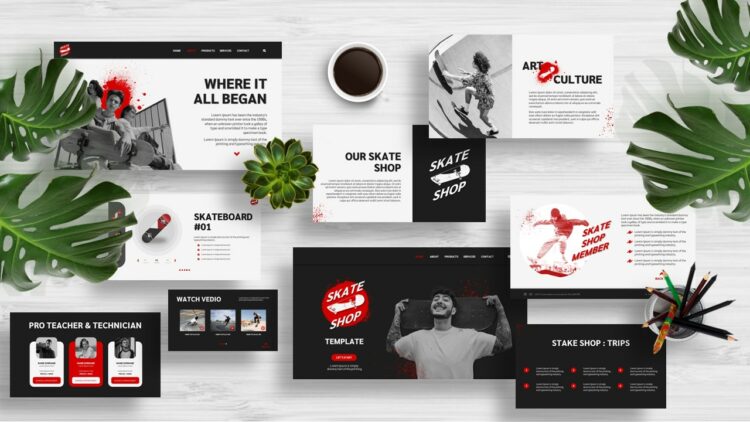 A Skateboard Shop PowerPoint template with red and black colors features a bold, edgy design that reflects the culture and style of skateboarding. This template includes slides with backgrounds featuring pictures of skateboards, Skate parks, and skaters, as well as a color palette that are red and black. The text on the slides is simple and easy to read, and the template includes a variety of different slide layouts to accommodate different types of content, such as bullet points, charts, and images. The overall style of the template would be bold and youthful, with an emphasis on the skateboarding culture and its lifestyle. The design also includes some visual elements that are related to skateboarding like graffiti, rough textures, and more. The template can be used for presentations related to the skateboarding industry, Skateboard shop promotions, and other related businesses.
Feature of this PowerPoint Template:
Fully and easily editable (shape color, size, and text)
Drag and drop image placeholder
This template has a color theme and will automatically apply when copied and pasted
The aspect ration of 16:9
20 unique slides
This file already have imbedded fonts
If you have any question or problem please fill free to contact us at Facebook fanpage
Conditions:
Personal and education use.
Not allow for commercial use.
Not allow for (re)sell, (re)distribute.