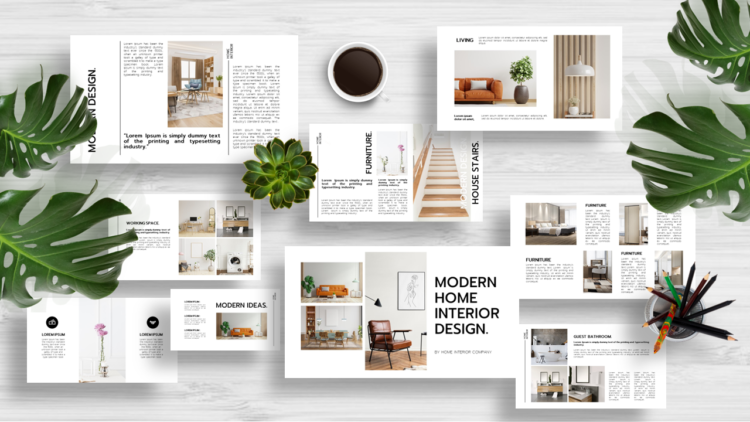 Modern Home Interior Design
Are you an interior designer, architect, or homeowner looking for a new way to showcase your modern home interior design ideas? Look no further than our new presentation template! With a sleek black and white minimal style, this template looks clean, luxurious, and professional, making it the perfect choice for anyone looking to create a visually stunning presentation.
With 24 slides and compatibility with PowerPoint, Canva, Google Slides, and Keynote, our modern home interior design template is versatile and easy to use. You can easily customize the slides to fit your specific needs and add your own content to create a presentation that perfectly showcases your ideas.
Whether you're presenting to clients, colleagues, or friends and family, our template is the perfect way to impress them with your design skills. The modern and minimalist design is sure to catch their attention and keep them engaged throughout your presentation.
But it's not just for professionals – homeowners looking to redesign their own homes can also benefit from our modern home interior design template. Use it to create a visual representation of your design ideas and get a better understanding of how your new space will look and feel. You can even use it to share your ideas with contractors or other professionals you're working with.
At our website, we're committed to providing high-quality presentation templates that are free to download and easy to use. Our modern home interior design template is just one of the many templates we offer, so be sure to check out our other designs as well. Download our modern home interior design template now and take your presentations to the next level!
Feature of this PowerPoint Template:
Fully and easily editable (shape color, size, and text)
Drag and drop image placeholder
This template has a color theme and will automatically apply when copied and pasted
The aspect ration of 16:9
This file already have imbedded fonts
If you have any question or problem please fill free to contact us at Facebook fanpage
Conditions:
Personal and education use.
Not allow for commercial use.
Not allow for (re)sell, (re)distribute.