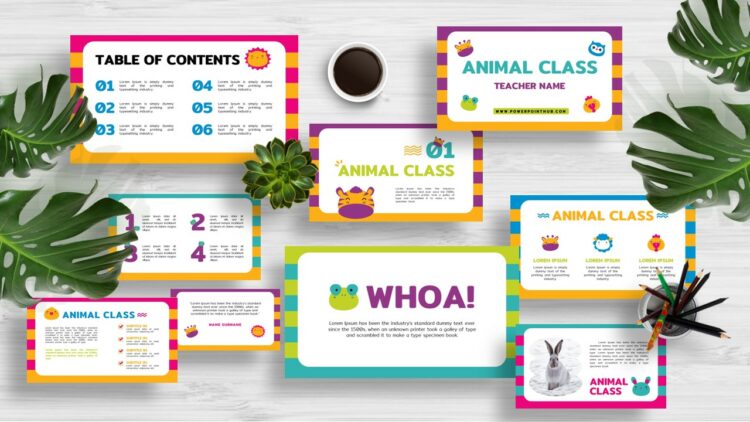 Introducing our delightful children's class presentation template! Designed with adorable animals and a vibrant, colorful aesthetic, this template is perfect for creating engaging and captivating presentations for young learners. With a total of 24 slides, you'll have plenty of creative options to bring your lessons to life.
The cute animal illustrations featured throughout the template will capture the imaginations of children and create a fun and interactive learning experience. From playful monkeys to friendly dolphins, each slide is thoughtfully crafted to spark curiosity and make learning enjoyable.
Whether you're a teacher, tutor, or parent, this template is suitable for a variety of children's classes, including language learning, science, mathematics, and more. With its versatile design, you can easily customize the slides to suit your specific educational content and objectives.
The template is compatible with popular presentation software such as PowerPoint, Canva, Google Slides, and Keynote, making it easily accessible for everyone. You can effortlessly edit the colors, fonts, and images to match your teaching style or add your own personalized touch.
Each slide in the template is carefully designed to balance visual appeal and educational value. Eye-catching graphics, playful animations, and clear text ensure that children stay engaged and actively participate in the learning process. Whether you're introducing new concepts, conducting interactive quizzes, or facilitating group activities, this template provides a dynamic platform for effective teaching.
Download our children's class presentation template for free and watch as your lessons come to life with the help of cute animals and vibrant colors. Prepare to inspire and educate young minds in a fun and engaging way. Start creating captivating presentations that children will love today!
Feature of this PowerPoint Template:
Fully and easily editable (shape color, size, and text)
Drag and drop image placeholder
This template has a color theme and will automatically apply when copied and pasted
The aspect ration of 16:9
24 unique slides
This file already have imbedded fonts
If you have any question or problem please fill free to contact us at Facebook fanpage
Conditions:
Personal and education use.
Not allow for commercial use.
Not allow for (re)sell, (re)distribute.